A concept with great flexibility
The EASY PLUG® – PATCH SYSTEM concept adapts to the surgeons wishes, either a single layer or two layer repair.
Circle: Use either as a self forming plug or as the deep layer in a two layer repair
Keyhole Patch: Top layer reinforcement to complete a Lichtenstein style repair
Fast, high quality and complete tissue incorporation within weeks
High patient comfort with reduced mesh pain and foreign body sensation
Reduced complications and recurrence
Minimal shrinkage
See applicable SURGIMESH® IFU for information on Precautions and Possible Complications.
Easy Plug
®

– Patch System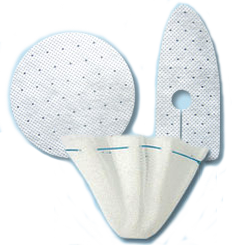 A uniquely configured system of lighter weight mesh composed of non-woven microfibers of polypropylene for strong repairs with high patient comfort.
A multitude of other configurations of SURGIMESH® WN are available.
See our SURGIMESH® WN Inventory Guide or check with your local BG Medical Representative.