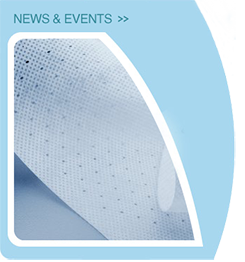 Prospective, Randomized, Double Blinded Clinical Study Finds SURGIMESH
®

WN To Result In Reduced Patient Pain and Complications In Lichtenstein Inguinal Hernia Repair After One Year Follow-up At Major European Center
April 23, 2009 – BG Medical / PRnewswire (Chicago, IL)
Chronic post operative pain following mesh repair of groin and abdominal wall hernias continues to be a source of discomfort for patients. M. Smietanski, MD, et.al., of the Medical University of Gdansk Poland designed a long term study to compare the effect the type of hernia mesh would have on patient chronic pain and post operative outcomes. In a randomized population of inguinal hernia patients heavy weight knitted polypropylene (Surgipro – HW PP), expanded polytetrafluoroethylene (Mycromesh – e-PTFE) and light weight non-woven polypropylene (SURGIMESH® WN – LW PP) were implanted using the Lichtenstein hernia repair technique. Patients were evaluated at 7 days, 3 months and 1 year for time to return to normal activities, wound redness, infection, pain and recurrence. Time to return to normal activities was assessed using the standardized SF-36 questionnaire and pain was assessed using the Visual Analogue Scale. No antibiotic prophylaxis was used.
A 100% follow-up was achieved at 7 days and 3 months and 96% of the 1 year patients were examined. No significant differences were noted in length of hospital stay, return to normal activities or recurrence rate (0% for all). Pain was significantly less overall and less at each follow-up in the LW PP (SURGIMESH® WN) and e-PTFE groups vs. the HW PP group. Redness and infection were greater in the e-PTFE group (20% – 5 instances out of 25) vs. the HW PP (4% – 1 instance out of 25) and LW PP (0% – 0 instance out of 25 for SURGIMESH® WN) groups.
Further analysis of the study data finds the incidence of pain in the LW PP (SURGIMESH® WN – 1 instance out of 75 queries) group to be 90% less than the incidence of pain in the HW PP (Surgipro – 10 instances out of 75 queries) group. The authors concluded that, although the study was limited in scale, the improvements in patient outcome would have theoretical social benefit in improving the quality of inguinal hernia repair.
SURGIMESH® is an advanced technology surgical mesh indicated in the US for use in hernia repair – a common procedure performed in over 1 million patients in the US every year. Its novel platform technology is based upon random, non-woven polypropylene micro-fibers. Developed by Aspide Medical, this unique platform technology is the first non-woven, microfiber polypropylene mesh available for clinical hernia repair in the US. Pre-clinical studies have demonstrated that SURGIMESH® significantly improves upon current mesh offerings by reducing aggressive foreign body and dense scarring reactions to produce well integrated and strong repairs without the excessive wrinkling and shrinkage found at some hernia repair sites.
Reference: Paradowski, T, et.al., Polypropylene vs. ePTFE vs. WN mesh for Lichtenstein inguinal hernia repair – a prospective, randomized, double blind pilot study of one-year follow-up, Videosurgery & Other Mini-invasive Techniques, vol. 4, p. 6, 2009
About BG Medical
BG Medical is a unique Sales and Marketing Distribution Partner for next-generation medical devices and disposables. BG Medical partners with companies having high margin, breakthrough technology platforms with a potential for significant market development. Our goal is to provide our partners with the significant market share gain and the presence necessary to become leaders in given market segments. We accomplish this with our highly trained, dedicated and segment focused US wide Sales and Marketing Team.
BG Medical's core competencies include General and Laparoscopic Specialty Surgery, Urogynecologic, Colorectal and other emerging minimally invasive surgical platform applications. BG Medical is the exclusive US distributor for SURGIMESH® and other advanced medical device technologies.
About Aspide Medical
Aspide Medical of St. Etienne, France, celebrating 15 years of healthcare innovation, manufactures thousands of medical devices each year which are distributed worldwide. Aspide Medicals vast expertise in developing medical device technologies for the treatment of digestive, urologic, gynecologic, and aesthetic surgeries has brought a number of breakthrough advances in these and other diversified healthcare markets. Maintaining a commitment to the latest ISO Quality Standards, state-of-the-art manufacturing and automation, Aspide Medical continues to excel in several specialty healthcare markets requiring surgical intervention. For more information, visit Aspide Medicals website at www.aspide.com.